(Page updated: 1/23/2018)
MinsiTrailsNet is our newest offering to improve your camp experience at our Minsi Trails camps: Akelaland; Camp Minsi; and, Settlers Camp. MinsiTrailsNet is also available at the Council Service Center. MinsiTrailsNet offers:
Improved internet connectivity

Additional WiFi access points

Support for WiFi enabled cell calls
MinsiTrailsNet went live on November 1st, 2017.
What do I need to use MinsiTrailsNet?
Not much, really. Just look for the MinsiTrailsNetGuest WiFi network on your phone or laptop and select it. You may also want to flip on "auto-connect" so that you can seamlessly travel between the Service Center, our camps and between the access points within each camp.
Where are these access points in each camp?
During the winter months, October thru April coincident with the water shutoff, MinsiTrailsNetGuest WiFi is available near these heated areas:
Akelaland - Campmaster Cabin and the A-B program building

Camp Minsi - AdPad (Camp Office) and (in the future) the Campmaster building

Settlers Camp - Nature Lodge, Health Lodge, and the Old Dining Hall area
During the warm months and summer camp, the access points are planned to be:
Akelaland - Trading Post and Dining Hall areas

Camp Minsi - AdPad (Camp Office & Leaders Lounge), Dining Hall, and Trading Post areas

Settlers Camp - Nature Lodge, Old Dining Hall (ODH / Area 7), and the Health Lodge/Trading Post area
As we gain experience with MinsiTrailsNet, we will refine the access point locations to maximize the benefits for our campers.
Are Scouts allowed on the network or just adult leaders?
This is up to each unit leader, just as it is today. With a cell signal on Scouts' mobile phone, they have access to the internet today if their unit leader permits.
Is content filtering active?
Yes, absolutely! MinsiTrailsNet at the camps is currently filtering for "adult content" websites. To verify this feature is working, you may attempt to navigate to www.gambling.com. You will get a red screen "web page blocked" message from Zscaler, our content filtering vendor. Additional blocking is possible as the need arises.
Is there a secure network while I'm at summer camp?
Yes. Please see the camp leadership team for the private network password. The MinsiTrailsNet private network uses WP/WP2 security protocols. We have patched for the recently announced WP/WP2 vulnerability as of 11/5/2017.
Does MinsiTrailsNet improve my cell phone calls?
Not directly. However, if your cell phone supports wifi-enabled cell calls, then you will have an improved cell experience near a MinsiTrailsNet access point. WiFI enabled calling is a phone-based feature and is not dependent on a particular cell carrier.
How does MinsiTrailsNet work?
Simple. MinsiTrailsNet uses Cradlepoint routers to "talk" to an AT&T cell tower signal on one side, and "broadcast" a WiFi signal on the other.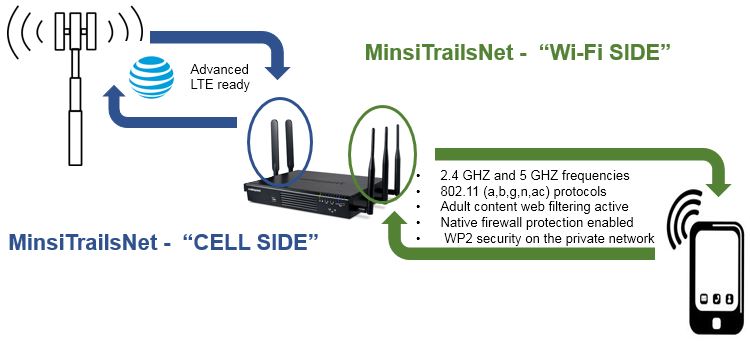 How can I determine where the local camp access points are currently located?
Just look for the MinsiTrailsNert WiFi logo on buildings housing an access point.